Our range of Silicone Rubber Mat Heaters also known as Wire Wound Heaters, mat heaters are ideal for precise, even heating across a surface. The fact that these heaters are flexible, lightweight and moisture/chemical resistant makes them ideal for many applications and easy for frequent handling. They are suitable for heating up to temperatures of 260°C from as low as -60°C. The maximum sizes are 940 x 3000mm and can be shaped to your requirement.
Self-Adhesive or Non-Adhesive – Standard mat heaters are available as either non-adhesive or self-adhesive. Self-adhesive mat heaters come with a sheet that protects the adhesive face and is easy to remove and apply. This is a secure way of fitting the heater into place and is great for efficient heat transfer.
Heater Stock List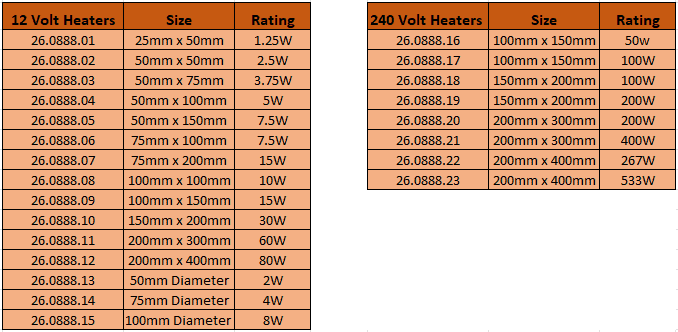 Product supplied as follows:
Etch foil, silicone rubber insulated heating element with adhesive backing – 0.13mm thick pressure sensitive acrylic. 0.5M (500V Rated) 22 AWG PFTE Leads. Operating temperature range -60C to +200C. (240V heaters have a 17mm diameter hole in the centre). Available within 3-5 working days.
In-built thermal devices – Cut-outs such as bi-metal switches can be built into the heater for controlling temperatures. The controllers are available in both manual and auto reset options. The most common of the temperature sensors sold with mat heaters is a ½" disc limiter, which is mounted to the surface of the heater. The limiter provides over temperature protection or basic process control and are available with a range of 5°C to 200°C and a maximum capacity of 15 Amps at 230 volts. Heaters can also be fitted with PT100's or thermocouples. The thermocouples are available in Types J, K and T. 0°C to 150°C electronic digital thermostats can also be fitted in-line with the heaters.
Spiral Heaters are designed to fit around flexible or rigid small diameter pipes. They are often used on pipes that deliver liquid/gas or for anti-condensation purposes. Spiral shaped pipe heaters are capable of reaching surface temperatures of up to 200°C. Standard lengths 205mm – 1020mm and target diameters of 6.35mm – 12.7mm. These pipe heaters are capable of temperature ranges between -60°C – 200°C.