Heated hoses are designed to keep liquids and gases at a constant temperature between 5 to 350°C.
Used in a wide range of industries, these products are versatile and reliable. They are often used in extrusion and food processing machinery for the fluid transfer of plastics and food ingredients respectively.
The bore sizes for our flexible heated transfer hoses range from 4 to 25mm and available in any lengths from 300mm long. There are a variety of end fittings and integrated temperature sensor options such as Type J and K Thermocouples or PT100.
The labelled diagram below illustrates the typical construction but there are many variations that we can supply, bespoke to individual customer requirements.
Internal Construction – there are several layers of glass fibre insulation cover the heating element and thermocouple. This in turn is covered with a silicone foam layer, which offers a high degree of thermal insulation.
External Construction – polyamide braiding protection helps to protect the insulation from scuffs and abrasions, but, for additional protection, a stainless steel braiding is available.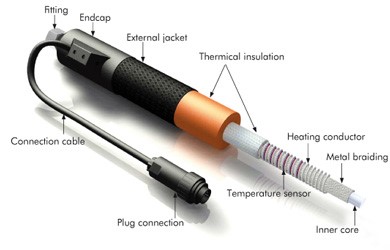 Plastic Extrusion Machinery
Double Glazing Manufacturing
Car and Commercial Vehicle Manufacturing
Transfer of fluids including: Food ingredients, Wax, Adhesives, Oils and Soaps
Contact us today for more information and to discuss your requirements.